I get so excited during the summer when the Back to School sales start. I think it goes back to my childhood when my folks would take me to get my school supplies. We went to a store called Smitty's and I would get to pick out a new pencil box, crayons, and a fresh jar of paste. Paste, yes paste. (I'm old.) The minty smell of back to school for me. Ahhh … memories.
As a teacher, back to school is still an exciting time. I love the prospect of a new year and even more, fresh supplies. I like to stock up on the usual items, but here is my list of school supplies you may have not thought you needed, but you do- any time of the year. These are the things I use every day and a few splurges but generally aren't in the back-to-school aisle at Walmart.
The links below are affiliate links. 
1. Book Rings-   I use these puppies all the time for flipbooks and flashcards. Most projects take several, so I like to stock up. I like the 3/4″ size for most projects. They also have rings in bigger sizes.
3/4″ Book Rings- https://amzn.to/341DUbb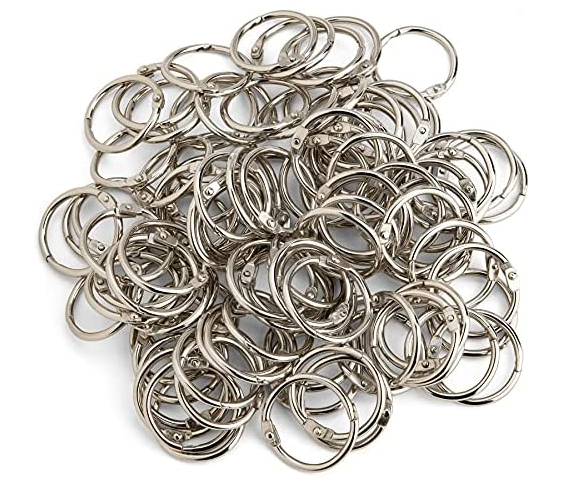 2. Cardstock-  Another staple in my arsenal. Michael's Craft Stores has great sales, but I get my basic white from              Amazon. I like heavier-weight cardstock. https://amzn.to/3pwkl35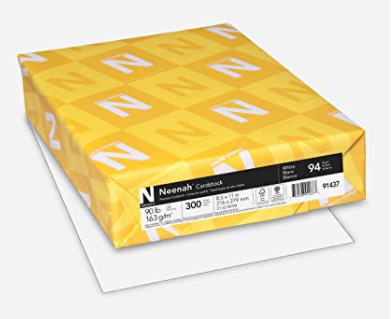 3.  Plastic bags for centers and games-  These are my favorite. I prefer zip-top bags that will fit an 8-1/2 x 11″                     game board. I also like the smaller ones for half-sheet games and smaller pieces. In the end, they aren't much more than the baggies you get at the store, but they fit school stuff so much better.
Small: 6 x 9″ Great for smaller centers. Pro tip:  Print centers using the setting that will print 2 pages on one page. This saves so much ink,  paper, and laminating. I love using these smaller bags for those, too!
Large Size- 9 x 12″ bags- perfect for full size centers! https://amzn.to/3euQtgY
4. Black Pocket Chart-  I love mine for the simple fact that it goes with everything. I change my theme boards weekly, and I never have to worry about the color clashing. I am SO over primary-colored pocket charts! I really like the Eamay brand on Amazon.  They are good quality and a fraction of the cost of some of the name brand companies. https://amzn.to/3HkmdlB
BONUS Pocket Chart! Have you seen the new small group pocket charts?  I LOVE THIS! I use it more for me to keep organized than for the kids, but I love how it is so tidy!   https://amzn.to/3sx2LxM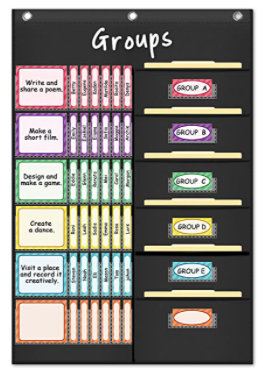 5. Shower Curtain Rings- I use these for my brag tags. My students clip them on their backpacks and add their brag tags as they go. They are more secure on a backpack than a book ring, and the pear shape lends itself perfectly to the task.
6. I love using these Velcro dots for book enclosures and center games with small pieces. I think this is a great value, too. https://amzn.to/3JpokWQ
 7. Laminating Pouches- This is the same deal I have found at Sam's Club, delivered to my door from Amazon. Great quality, too. https://amzn.to/3sSnxbt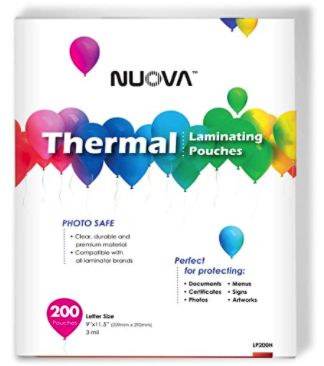 8. Dots of Glue-  Have you heard of Glue Dots? They are my FAVORITE!  I use them for all kinds of projects, but find them especially helpful when we are making projects with more dimensional things. I use them every year for our holiday projects too. Quick and easy… no wait time for the glue to dry. I always buy the bigger Dots and cut them in half for smaller projects. This is a great value I found on Amazon.  https://amzn.to/3puOeAC
9. Mr. Sketch Markers- I would be remiss if I didn't mention my buddy Mr. Sketch. The markers are more widely available now, but did you know they have different scented packs? Hands down, the blue cheese is my favorite, and it is one of the stinky ones! I get so excited when new scents are released! https://amzn.to/3zb8gUc
What are your favorite "off the beaten path" school supplies? Leave me a comment and let me know!
Teach-A-Roo
This post contains affiliate links. Thank you!